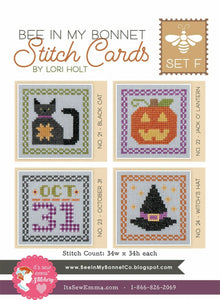 Stitch Cards
Set F
By Lori Holt
The Bee in my Bonnet Stitch Cards Set F by Lori Holt is simply de-fright-ful! It certainly makes for a happy Halloween with a Black Cat, Jack o' Lantern, October 31 and Witch's Hat! Spook up lots of cross stitch fun with these stamp-sized cuties.
The Bee in My Bonnet Stitch Cards come with full-color instructions, diagrams and supply list, including suggested DMC colors. Each set includes four stitch cards printed on durable cardstock and comes in a plastic bag.
Finished sizes:
10 Count Vintage Cloth - 3.25" x 3.25"
14 Count Aida - 2.5" x 2.5"
25 Count Lugana - 2.75" x 2.75"
Stitch count: 34w x 34h
Floss colors:
DMC 921
DMC 729
DMC 676
DMC 3862
DMC 3347
DMC 33
DMC 35
DMC 3799
DMC 310
DMC Blanc