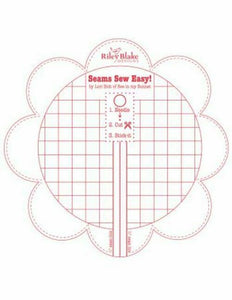 Seam Guide (Red)
Seams Sew Easy!
By Lori Holt
This is a seam guide by Lori Holt of Bee in my Bonnet. It attaches temporarily to your sewing machine with double sided sticky dots (4 included).
It can easily be removed and replaced when needed...
however, I keep one on my machines at all times!
Lori designed her Seams Sew Easy for accurate 1/4" seam allowances and for constructing her Easy Corner Triangles that she uses in her many quilt blocks in her books and patterns. This tool saves time by not having to mark lines on your fabric when sewing half square triangles, flying geese, snowballs etc.