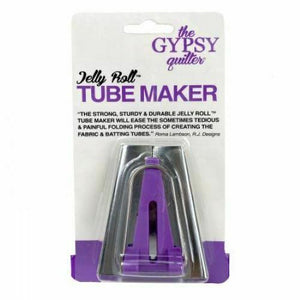 The Gypsy Quilter Jelly Roll Tube Maker
To make the Fabric & Batting Tube, place a thin batting strip on the wrong side of a 2 1/2" fabric strip. Feed the layered (fabric & thin batting) strip, batting side up, into the wide end of the Jelly Roll (tm) Tube Maker. If needed, place a sewing awl in the slot on the tool to pull the layered strip through. Then fold the now magically folded, layered strip in half as it comes out the other end & place under the sewing machine presser foot ready to stitch. Keep the Jelly Roll Tube Maker close to the sewing machine & slide along as you sew.
This product works best with 2-1/2in precut batting strips.
The metal Jelly Roll Tube Maker may be used with or without an iron (with caution) for other similar technique projects.